Enduring Passion.
Passion connects. Passion is timeless. Passion is the future.
Dear Porsche Club members, dear Porsche enthusiasts, dear Porsche friends,
Today we celebrate the 70th anniversary of the 1st Porsche Club. On this exact day, seventy years ago, on May 26th of 1952, the Westfälischer Porsche Club Hohensyburg was founded. Little did the founding members know that the fellowship they started would grow into the world's largest single marque car club in the world – with more than 700 Porsche Clubs worldwide with in excess of 240,000 members.
Since then, the Porsche Clubs have been home to the most loyal and dedicated enthusiasts of the Porsche brand. A vivid community of friends who are connected all over the world. Porsche would not be Porsche without this strong community and their enduring passion for the brand.
Since the very beginning, the Clubs have been focused on passing on knowledge, experiences, friendship, enthusiasm, and the Porsche spirit. This has continued from generation to generation. At Porsche we know that the people around the cars have always been our company's main treasure. It is all about the people, as the Porsche Club of America says in his slogan.
And with the celebration of this special anniversary we would like to honor exactly that: the people, the Clubs, and their members. We want to give you, the Club members the floor. We want to hear your stories.
To do this we have adapted the PCNO portal with a section dedicated to celebrating the 70th anniversary. A major part of this is set up to showcase the Club members stories.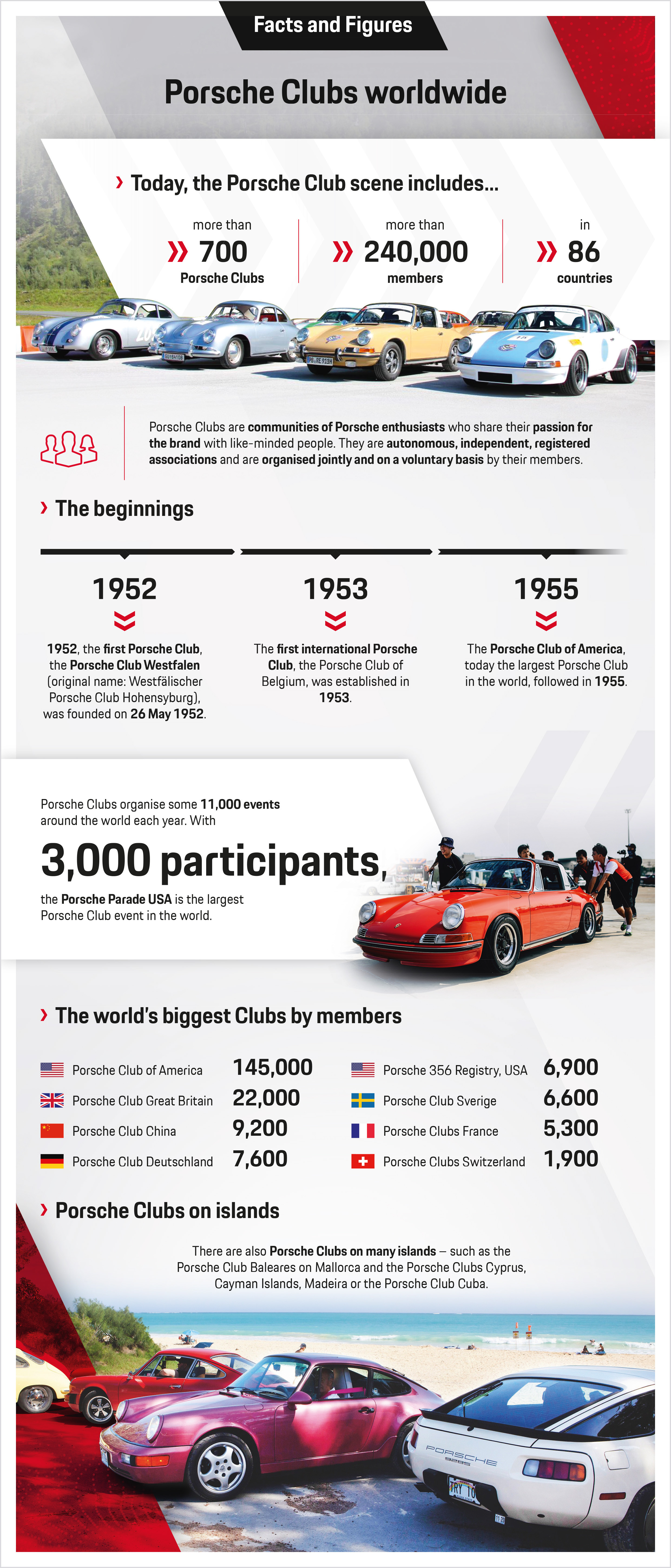 Today we begin with the stories of the Club members Dave Rodenroth, Brock Keen, Henk Koop and Billy Karam. There will be more stories posted in the weeks to come. However, they are only intended to encourage you to share your experiences. The story section also contains the "Your Story" upload function which can be used to submit your personal story. Please participate and tell us about your "Enduring Passion"! We are very excited to hear from you because we are convinced that there is no other brand on this planet which generates so many experiences and stories as Porsche does.
We have also prepared an extensive collection of information, such as a graphic kit which contains a wide variety of 70th branding materials or a history kit which has an extensive collection of photographs and stories covering the Club's rich 70 year history.
However, for now, we would like to take this opportunity to congratulate all the Porsche Clubs around the world on their 70th anniversary. The fact that they have grown so much over the last 70 years is a testament to the enthusiasm, hard work and dedication of Club leaders and members all around the world. You are an amazing part of our Porsche history and our Porsche family.
Happy anniversary Porsche Clubs Worldwide!
Your Porsche Global Community Management